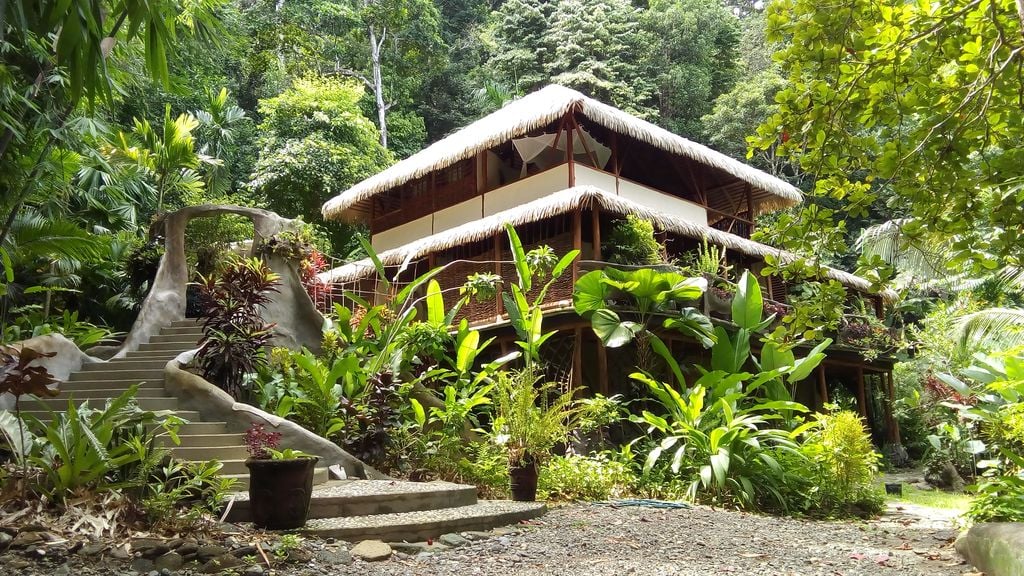 The main platform includes the kitchen, dining area, living area and two en-suite bedrooms with an upper level containing the en-suite master bedroom. Adjoining the main platform is a rancho with hammocks and easy chairs and a viewing deck with a spectacular view of the primary forest behind the house. In the garden there are two connected dipping pools and up behind the house in the primary forest a private yoga deck with a view over to the ocean. Choose your special place and catch up with a good book, interrupted only by passing monkeys, macaws and butterflies.
MASTER SUITE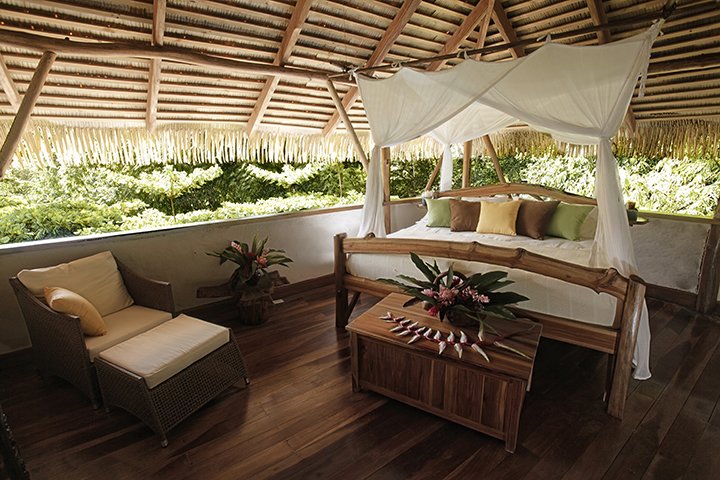 King size bed and large shower room with 2 sinks and a separate toilet on its own private level.
JUNIOR SUITE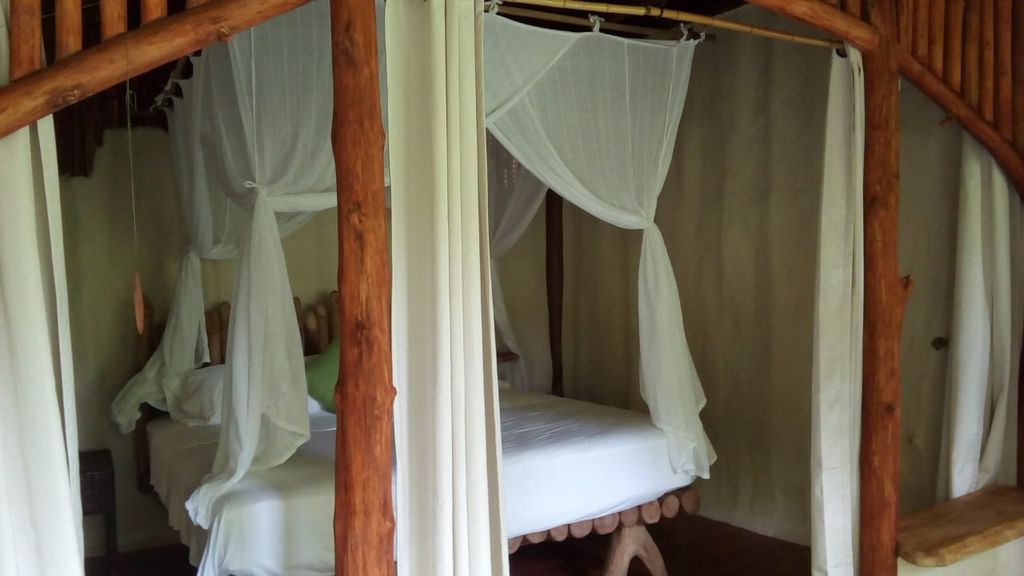 King size bed and shower room, sink and separate toilet with a private balcony.
FAMILY SUITE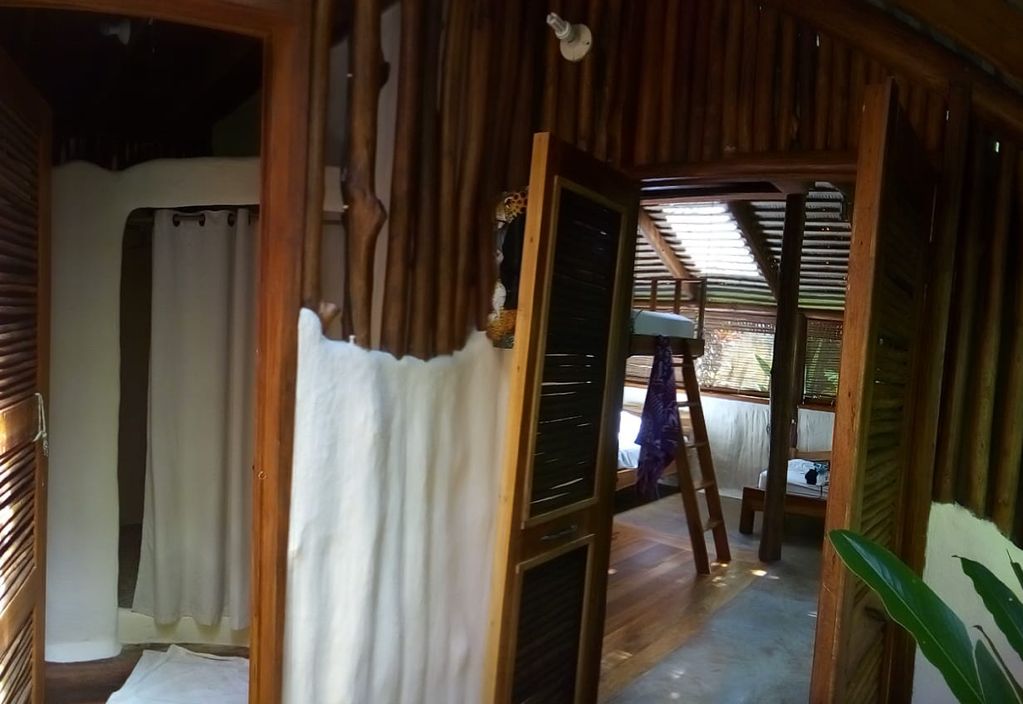 Has screened windows with shower room and separate toilet.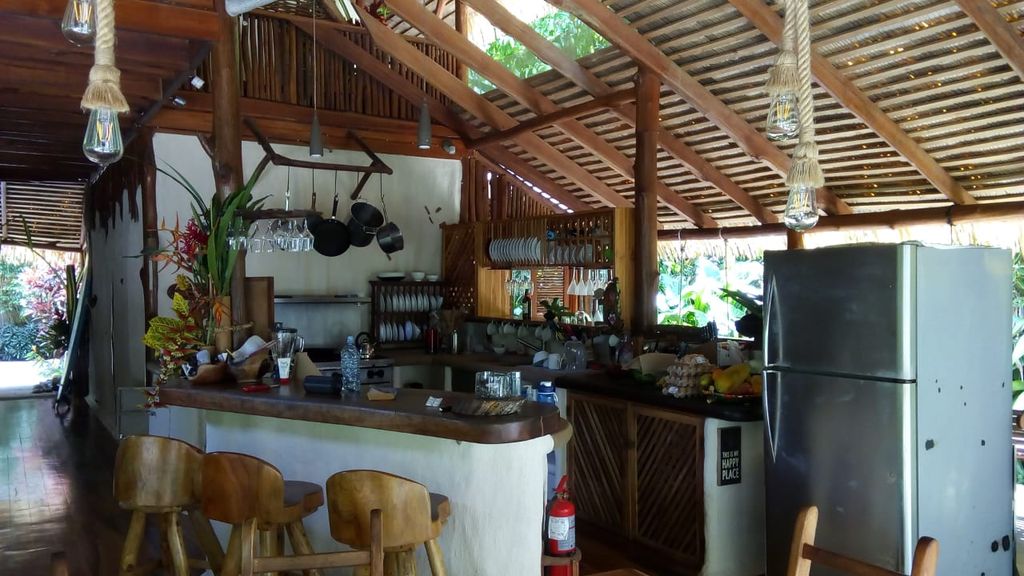 The kitchen is designed with cooks in mind but space for a group too! The wide range of utensils, cookware & tableware is regularly reviewed to ensure that all are in good condition. The custom storage rack reduces the chore of washing up, just place items in their rack and they will dry for next time, minimum hassle. The gas stove has 6 large burners and a large oven and there is an American style fridge with freezer. There are 3 sinks, 2 together and 1 on the island bar where smoothie or cocktail preparation is a breeze with a blender all set to go and plenty of counter space to prep and talk with your guests.
MAIN PLATFORM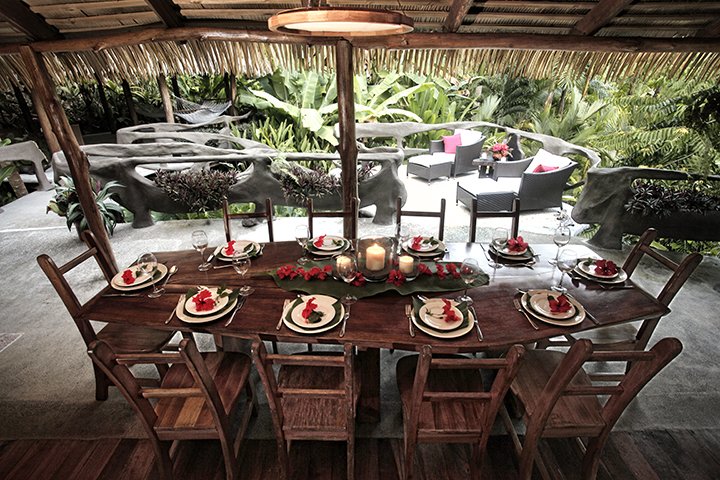 Provides easy chairs for 5 together with a dining table which will seat 10.
VIEWING DECK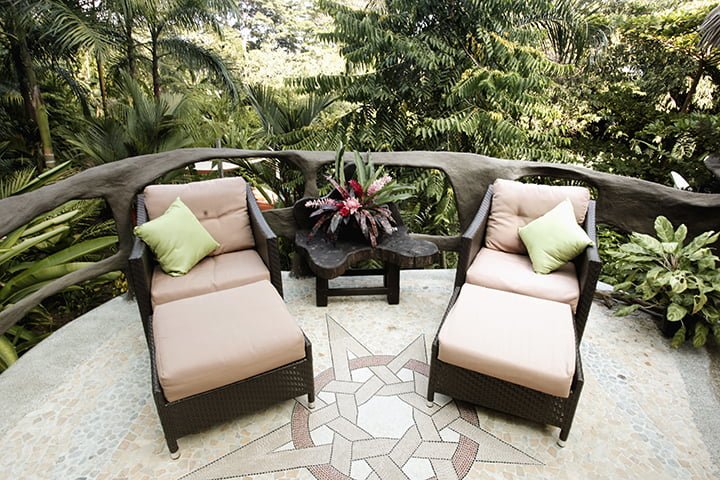 The perfect spot to watch the jungle wake up each morning, birds and butterflies starting their day in the golden dawn light. An extension out from the main platform it provides a great viewing area for the primary forest behind the house as well as the garden below.
RANCHO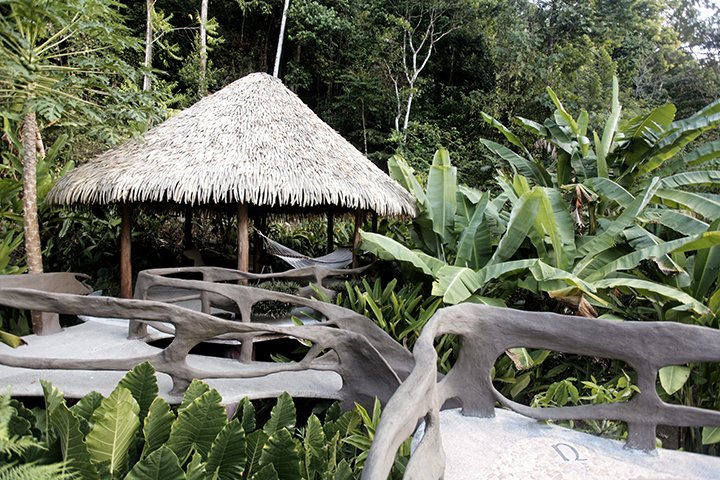 This extension from the main platform has easy chairs and hammocks and catches the afternoon cooling air coming down the hill through the forest.
YOGA PLATFORM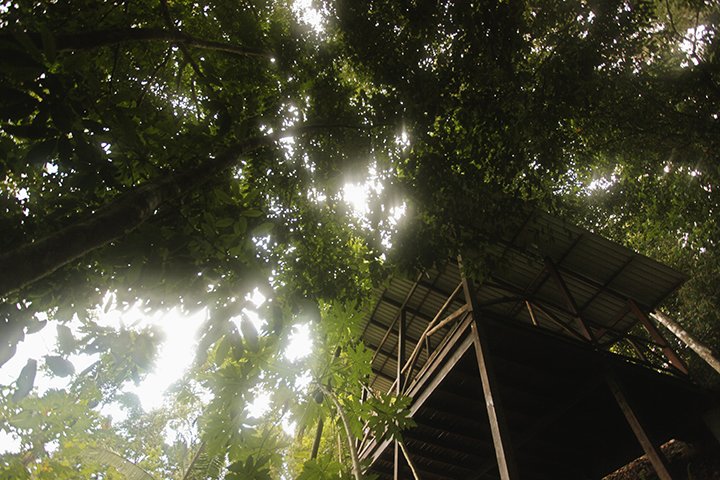 Much of our property is actually primary forest behind the house. Explore this area using the well-tended trail of steps and spend some time up at our large private platform with a view to the ocean. This is the perfect spot for yoga, massage or bird and wildlife watching.
GARDEN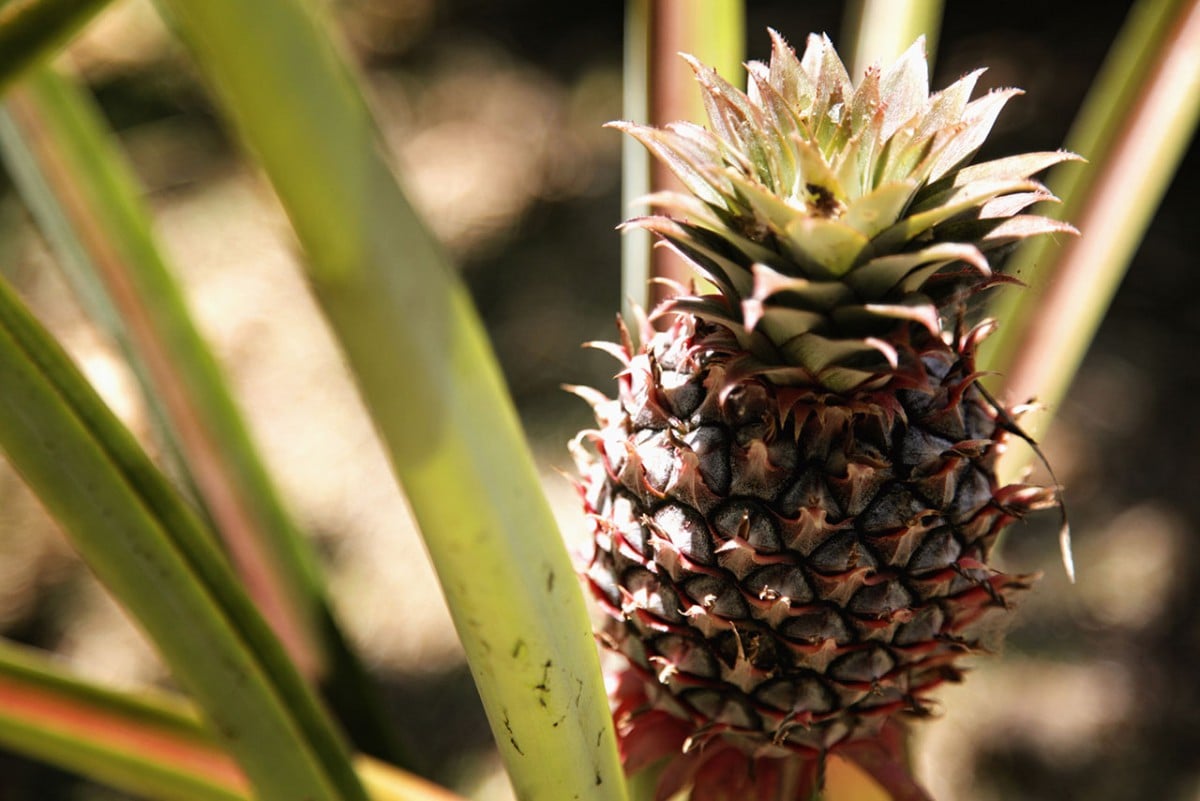 Steps take you down through the grounds which gently transition from the forest to garden and lead to the pool area. The organic design of the house is evident here too with a fun, funky combination of two dipping pools connected by a channel and a small waterfall surrounded by lush tropical foliage and flowers. Relax here in the shade or sun, this private setting is also a serene setting for yoga or massage. Poolside, you will also find a bistro table and chairs, barbecue and outdoor shower.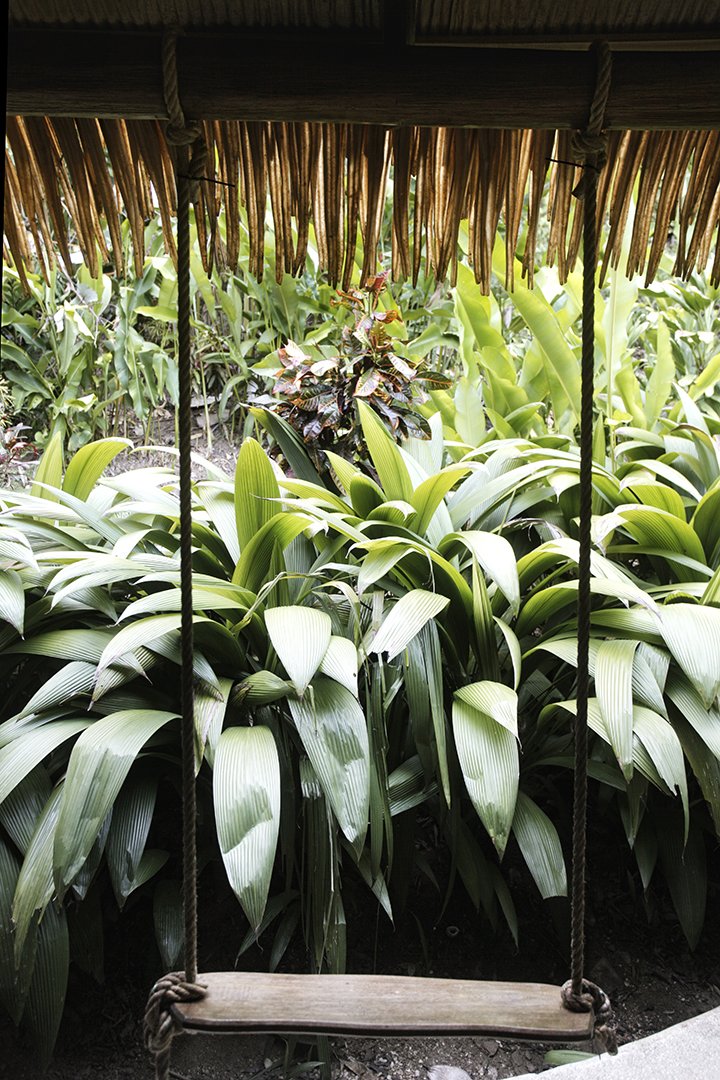 We are off the grid so rely on solar power and so request that care is taken with power use with charging by day rather than night. Due to the design of the house and the solar power, air conditioning is not possible but the open nature of the home provides an open and cool environment which can be supplemented by fans as necessary. The house has wireless internet, so bring your laptop, local SIM cards will work in the area if you wish to use your phone. Housekeeping will be provided every other day, but if you prefer to have this service done daily, we can provide that for an additional fee. There are no laundry facilities for guest use but laundry service is available at a small additional charge or clothes can be laundered in Puerto Jimenez.